I am here to help you find the best tools possible because I know the pain, writing these reviews does take time, however. "We are a participant in the Amazon Services LLC Associates Program, an affiliate advertising program designed to provide a means for us to earn fees by linking to Amazon.com and affiliated sites."
Dewalt DWS779 Review

-12 in. Double Bevel Sliding Compound Miter Saw
Introduction
The compound miter saw is perhaps one of the most important tools in the arsenal. Whether cutting a stray 2×4, trimming out a window, or maybe even miter cutting a gutter, the compound miter saw does the job. Since the compound miter is so versatile and also one of the more expensive tools, it is of the utmost importance that you buy the right one. I will be sharing my personal experiences with compound miter saws in this Dewalt DWS779 review.
The Basics-Dewalt DWS779 Review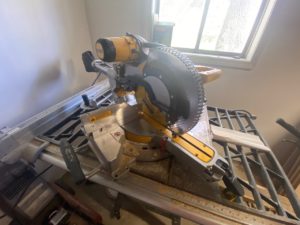 -12 Inch Blade
-Bevel Capacity (0-48 deg)
-Cut capacity of 2 in. x 14 in. Dimensional Lumber at 90 degrees
-6 Foot Cord Length
-3800 RPM
-3 Year Warranty
-56 lbs.
-50 deg Left Miter, 60 deg Right Miter
-Dimensions 33"x24"x19"
In Depth-Dewalt DWS779 Review
I bought my Dewalt DWS779 about 6 months ago during a sale on Amazon.com. During my summers, I spend a lot of my time doing trim work, so a good quality miter saw is essential. I cannot tell you how many times my old craftsman 8-inch miter saw was out of alignment. Every time I went to use that saw I would have to get out my speed square and manually set the angle to 45 degrees.
Angle Adjustment-

Dewalt DWS779 Review

The first thing that I noticed when using the Dewalt DWS779 is the ease of angle adjustment. Now, I know not everyone is upgrading from a 15-year-old craftsman, but this thing is smooth glides through all 110 degrees of rotation.
Miter Angle-

Dewalt DWS779 Review
The miter angle can be adjusted by pushing down on the button in front of the angle lock and then sliding the saw to the desired angle.
The DWS779 has various preset angles but can be adjusted to any angle between –50 and 60 degrees.
Next to the angle lock lever, there is a little tab that can be flipped up in order to stop the saw from auto-locking into one of the presets.
Bevel Angle-

Dewalt DWS779 Review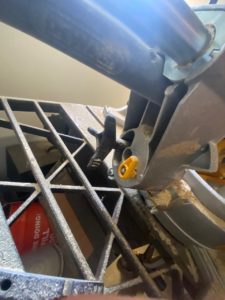 The bevel angle is

pretty easy

to adjust on the Dewalt DWS779.
The angle can be adjusted from 0-48 degrees.
The

only thing I don't like about adjusting the bevel angle is that there seems to be a little play in it going back to 0 degrees. This

little bit of play can cause the saw to be off by a hair if you are not careful when setting the angle back to 0. T

his is not a huge deal, but it is important to consider before making a cut on an expensive piece of wood.
Board Clamp-

Dewalt DWS779 Review
When I first got my hands on the Dewalt DWS779, I noticed the board clamping device. I was initially under the impression that it is just another useless feature, but I have grown to love it.
If you are cutting a board at an odd angle it is extremely nice to be able to keep your hands away from the blade.
Recently I had to cut a ton of dock boards all at the same length and the board clamp came in handy. I clamped a board down and used it as a stop to butt the ends of the boards into, to cut down on measuring time.
Power-

Dewalt DWS779 Review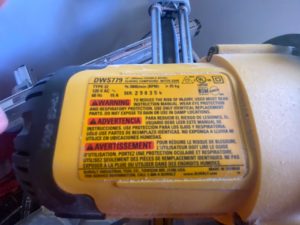 The DWS779 is very powerful, I have had no issues regarding power. The DWS779 sports a 15 amp motor, capable of spinning the blade at 3800RPM.
Safety Switch-

Dewalt DWS779 Review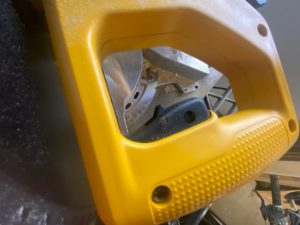 The handle has a little safety switch, but it is not something that gets in the way. I have had some miter saws that are hard to use with your left hand because of the odd switch placement.
Accesories
The Dewalt DWS779 is compatible with several Dewalt miter saw accesories.
DEWALT Miter Saw Stand, Compact (DWX724)
Having a miter saw stand is extremely helpful when working on a job site. This thing will save your back as well as support long boards.
DEWALT Miter Saw Stand With Wheels (DWX726)
The more expensive version of the DWX724, the DWX726 offers the same features, as well as a set of wheels to help move the saw around.
Final Thoughts-

Dewalt DWS779 Review
Overall, there is not much to complain about with the Dewalt DWS779. If you are in the market for a new compound miter saw this is going to be one of the best options for the money. You could opt for the DWS780, to get the XPS cut line laser, but it is about $200 more.
Check out our most recent review of the Makita XSR01 here